eProcurement from Central Bidding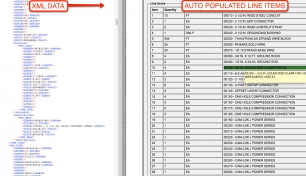 eProcurement
The benefits of eProcurement have been proven over years of implementation and study. The problem has traditionally been the cost of these solutions. Central Bidding can implement your custom programmed eProcurement solution at a fraction of the cost of the typical pricing models with benefits such as:
Eliminate the possibility of errors in transcribing the bid information
Automate the data entry for your bids and eliminate the time your employees have to re-enter the bid information
Central Bidding will automate the process of populating the bid information directly from your server to the electronic bid form.
You simply select the bid template and enter your unique bid identification information and all of the bid information pre-populates the necessary fields for the vendors.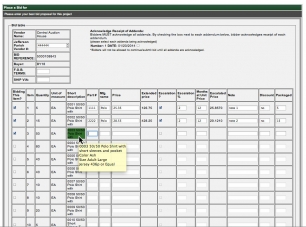 Ease of Use
You can even have your vendors automatically notified that you have released a bid and are looking for them to submit pricing, based on the commodity code the vendor submitted at registration.
Multiple Electronic Bidding Templates for all of your unique bidding requirements
Custom Bidding Templates can be created to assure all of the individual requirements are included in each of your bidding opportunities.
Unlimited number of line items can be listed for your vendors to bid.
Vendors hover over the short description to get the full detail of the items you want to have them bid
Vendors submit all bid information electronically
No manual entry of bid information into your system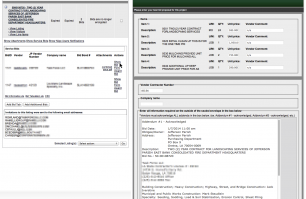 Complete Control
Complete accuracy as the vendor completes the electronic form and submits
You can allow for base bid pricing, discount and escalation all on the electronic bid form and it displays the correct pricing immediately
Automatically compare the bids on a line item basis
Bid tabulation automatically created from the vendor electronic bid submittals
Eliminate the timely requirement to enter the bid information onto a spreadsheet to compare
With the selection of a single button have all of the bid information sorted to compare the vendor submittals
Select the awarded bidder on a line item basis
Can select one bidder per item or multiple
Can send vendor bid award information with the push of a button right from the system
Eliminate the data entry of the vendor's bids
Download exactly what the vendor submitted back to your server
Download the bid award back to your server